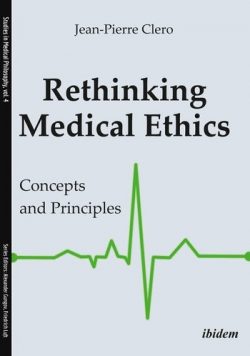 Rethinking Medical Ethics. Concepts and Principles
Auteur :
Jean-Pierre Clero
N° ISBN :
978-3-83-827194-1
Editeur :
Ibidem-Verlag
In this unique study, Jean-Pierre Clero examines medical ethics from a philosophical perspective. Based on the thoughts of great philosophers, he develops a theory of medical ethics that focuses on the values of intimacy.
"This provocative volume extends the precise but narrow confines of Jeremy Bentham's ethical thought through an unlikely combination with contemporary game theory, the psychoanalytical categories of Jacques Lacan, and Vladimir Jankélévitch's philosophy of the ineffable. Denouncing Kantian moral notions like autonomy or dignity as 'fictitious' and 'fallacious', it makes a case for prioritising the value of intimacy in ethical decision-making. Cléro's 'Investigation' shows how a broad-minded utilitarianism proves surprisingly congenial to the promotion of intimacy in relations of care, inside and outside of medical contexts."—Prof. Peter Niesen, University of Hamburg

"In line with his research published in 2011 under the title Calcul Moral (Moral Calculation) and his articles published in the Revue française d'Éthique appliquée and Ethics, Medicine and Public Health, Jean-Pierre Cléro here deepens the critical inquiry he has made into a few traditional categories of ethics, such as 'person' or 'dignity'. The author wonders what categories could be substituted for those that are no longer appropriate, reserving here the benefit of the notion of 'intimacy'. The originality of this book lies in the fact that a Francophone author speaks in English to an Anglophone public for whom utilitarianism is an obvious possibility of ethics: is it to show this audience aspects of Francophone ethics that are most often missed and on which it could draw to enrich its analyses? Or is it to convince Francophone researchers who read English that they could make more use of classical, modern, and contemporary Anglophone authors, a less Kantian or post-Kantian turn? It is in any case on the border between these two questions that each chapter of this sharp and stimulating book has been written."—Prof. Thierry Belleguic, Laval University, Québeq
Jean-Pierre Cléro is Emeritus Professor of Philosophy at the University of Rouen Normandie. Holder of the Agrégation de philosophie, of a Thesis about La philosophie des passions chez David Hume and of an HDR that was the first fragment of a philosophy of fictions. First Junior Lecturer to Nanterre (Paris X), he became Maître de Conférences, then Professor at the University of Rouen. He usually teaches the utilitarian ethics at Sciences Po, Paris. He is a member of many 'Espaces éthiques' (CHU of Rouen, CHR of Le Rouvray, CHU of Saint Germain en Laye). In Paris, he works with two Researchers in Ethics of Medicine (Prof. Christian Hervé and Prof. Emmanuel Hirsch). He is member of many reading committees (Revue de Synthèse, Cités, Essaim). Interested in psychoanalysis, he has written several books on Lacan.