The Circulation of Anti-Catholicisms in the Anglo-Atlantic world, 17th-21st Centuries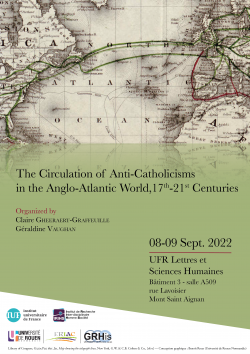 Date :
08-09 septembre 2022
Horaire :
09h00-18h05
Lieu :
UFR LSH | Bât. 3 | Salle A509 | Mont-Saint-Aignan
In line with the historiography of cultural transfers, this conference focuses on the dynamics of anti-Catholicism (in its practices, discourses and representations) travelling back and forth the two sides of the Atlantic. How were discourses and practices carried out by preachers, travellers, writers and temporary migrants disseminated on both sides of the Atlantic? How did anti-Catholicism evolve in a colonial context in which the Established Churches of Britain were not all-powerful? Furthermore, how did anti-Catholicism adapt to 'religious toleration' in the colonies? The networks and correspondences underlying these exchanges, the practical form they took and the material, political or ideological constraints which ruled them will be under close scrutiny.
Transatlantic Conférence organized by Claire Gheeraert-Graffeuille (Université de Rouen Normandie – ERIAC) and Géraldine Vaughan (Université de Rouen Normandie – IUF-GRHis).
PROGRAM
Thursday 8th September 2022
9. 00 — Registration and Welcome 
9.30 — John Wolffe (The Open University)
Anti-Catholicism and British nationalisms: Exploring the long view from the Gordon Riots to Brexit
10.30 — Break
Chair: Carine Lounissi (University of Rouen Normandie)
10.45 — Elodie Peyrol (Poitiers University)
Irish Catholic Indentured Servants in Seventeenth-Century Maryland
11.20 — Bertrand Van Ruymbeke (University of Paris 8)
Anti-Catholicism in Nineteenth-century American Historiography of the Huguenot Diaspora
11.55 — Andrew Jones (Morehouse College, Georgia)
Scottish Roots in Southern Soil: The Racial Formation of Rev. Peter Marshall
12.30 — Lunch
Chair: Clotilde Prunier (University Paris-Nanterre)
14.00 — Adam Morton (Newcastle University)
Anti-Popery and Conspiracy Theories in Early Modern England
Chair: Bertrand Van Ruymbeke (University of Paris 8)
15.00 — Owen Stanwood (Boston College)
Lessons in Tyranny and Tolerance: Huguenot Refugees and the Ambiguity of Antipopery in the British Atlantic World
15.35 — Iris de Rode (University of Paris 8)
Anti-Catholicism and French Troops in New England (1780s)
16.30 — Jessica Harland-Jacobs (University of Florida)
The Bishop Question and the British Empire, 1760s-1820s
Chair: Adam Morton (Newcastle University)
17.05 — Evan Haefeli (Texas A&M University)
Anti-Popery and the Formation of Early National America, 1775-1830

Friday 9th September 2022
Chair: John Wolffe (The Open University)
9.00 — Maura Jane Farrelly (Brandeis University)
God's Order or Man's Rights: The Puzzle of Unitarian Anti-Catholicism
10.00 — Kevin Anderson (Calgary University)
A Threat to National Unity: Anti-Catholicism in 20th Century Canada
10.35 — Break
Chair: Maura Jane Farrelly (Brandeis University)
10.50 — Blandine Chelini-Pont (Aix-Marseille University) 
Indians, French Canadians and Franco-Indian Mestizos: Catholic Savagery in the English Colonial and American Imagination 
11.25 —
Timothy Verhoeven
(Monash, Melbourne, Australia)

Sexual Scandal and Transnational Anti-Catholicism: The Case of Thomas John Capel
12.30 — Lunch