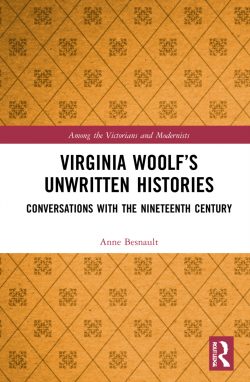 Virginia Woolf's Unwritten Histories. Conversations with the Nineteenth Century
Auteur :
Anne Besnault
N° ISBN :
9780367354961
Editeur :
Routledge
Virginia Woolf's Unwritten Histories explores the interrelatedness of Woolf's modernism, feminism and her understanding of history as a site of knowledge and a writing practice that enabled her to negotiate her heritage, to find her place among the moderns as a female artist and intellectual, and to elaborate her poetics of the « new »: not as radical rupture but as the result of a process of unwriting and rewriting « traditional » historiographical orthodoxies. Its central argument is that unless we comprehend the genealogy of Woolf's historical thought and the complexity of its lineage, we cannot fully grasp the innovative thrust of her attempt to « think back through our mothers. » Bringing together canonical texts such as Orlando (1928), A Room of One's Own (1929), Three Guineas (1938) or Between the Acts (1941) and under-researched ones — among which stand Woolf's essays on historians and reviews of history books and her pieces on literary history and nineteenth-century women's literature — this book argues that Woolf's textual « conversations » with nineteenth-century writers, historians and critics, many of which remain unexplored, are interwoven with her historiographical poiesis and constitute the groundwork for her alternative histories and literary histories: « unwritten, » open-textured, unacademic and polemical counter-narratives that keep track of the past and engage politically with the future.
Anne Besnault is Senior Lecturer at the University of Rouen and the Vice president of the French Virginia Woolf Society (SEW). In 1997, she defended her Ph.D. dissertation « The Short Stories by Katherine Mansfield, Virginia Woolf and Elizabeth Bowen » at the University of Paris III-Sorbonne Nouvelle and obtained first class honours. She is the author of Katherine Mansfield: La voix du Moment (1997), and co-editor of Construire le sujet. Textes réunis et édités par Anne Besnault-Levita, Natalie Depraz et Rolf Wintermeyer (2014) and Beyond the Victorian/Modernist Divide : Remapping the Turn-of-the-Century Break in Literature and the Visual Arts (Routledge, 2018).