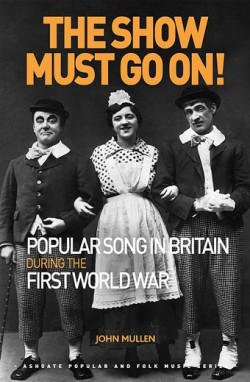 The Show Must Go On : Popular Song in Britain during the First World War
Auteur :
John MULLEN
N° ISBN :
978-1-4724-4159-1
Editeur :
Ashgate
Using a collection of over one thousand popular songs from the war years, as well as around 150 soldiers' songs, John Mullen provides a fascinating insight into the world of popular entertainment during the First World War. Mullen considers the position of songs of this time within the history of popular music, and the needs, tastes and experiences of working-class audiences who loved this music. To do this, he dispels some of the nostalgic, rose-tinted myths about music hall. At a time when recording companies and record sales were marginal, the book shows the centrality of the live show and of the sale of sheet music to the economy of the entertainment industry. Mullen assesses the popularity and significance of the different genres of musical entertainment which were common in the war years and the previous decades, including music hall, revue, pantomime, musical comedy, blackface minstrelsy, army entertainment and amateur entertainment in prisoner of war camps. He also considers non-commercial songs, such as hymns, folk songs and soldiers' songs and weaves them into a subtle and nuanced approach to the nature of popular song, the ways in which audiences related to the music and the effects of the competing pressures of commerce, propaganda, patriotism, social attitudes and the progress of the war.
Contents : Preface; Introduction: battles, society and entertainment; Portrait of an industry: producing popular music, 1914-1918; A star in focus 1: Harry Lauder – 'Scottish ambassador'?; A patchwork of genres; A star in focus 2: Vesta Tilley – the woman who played men; The songs and their content; A star in focus 3: Marie Lloyd – 'Our Marie'; 'If you were the only girl in the world': women, men and love in music-hall song; A star in focus 4: Harry Champion – 'the spirit of the poorer parts of London'; Songs about the war: elite voices and people's voices; 'I want to go home': soldiers' songs and other non-commercial songs; Conclusions; Appendix; Bibliography; Index.
Lien : http://www.ashgate.com/isbn/9781472441591
Lien : http://www.editions-harmattan.fr/index.asp?navig=catalogue&obj=livre&no=37791