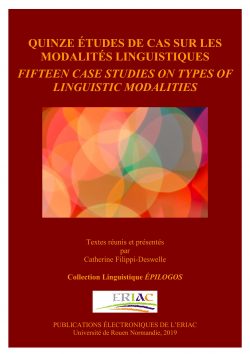 Disentangling epistemic modality, neighbouring categories and pragmatic uses: the case of English epistemic modal adverbs
Auteurs : Marta CARRETERO & Juan Rafael ZAMORANO-MANSILLA
Résumé
La modalité épistémique demeure une notion glissante dont la portée n'est pas facile à délimiter en raison d'un certain nombre de facteurs sémantiques et pragmatiques. Ce chapitre rend compte de certaines questions problématiques soulevées par les adverbes épistémiques dans la conception d'un schéma d'annotation pour la modalité épistémique en anglais : les frontières floues entre la modalité épistémique et la modalité dynamique; le chevauchement entre la modalité épistémique et les catégories voisines : l'évidentialité, la mirativité, la sincérité, l'opinion et le degré ; et l'interaction entre la modalité épistémique et les actes de langage, la politesse et la conces­sion. Par souci de simplicité, dans le schéma d'annotation nous propo­sons d'écarter les facteurs pragmatiques et de ne tenir compte que des facteurs sémantiques.
Abstract
Epistemic modality remains a slippery notion whose scope is not easy to delimit due to a number of semantic and pragmatic factors. This chapter reports on some problematic issues raised by epistemic adverbs in the design of an annotation scheme for epistemic modality in English: the fuzzy boundaries between epistemic and dynamic modality; the overlap between epistemic modality and the neigh¬bouring categories of evidentiality, mirativity, sincerity, opinion and degree; and the interaction between epistemic modality and speech acts, politeness and concession. We propose that, for the sake of simplicity, the annotation scheme should consider semantic factors, while pragmatic factors might well be discarded.
---
Les auteurs
Marta Carretero is Associate Professor of English Language and Linguistics at the Universidad Complutense de Madrid, where she currently lectures in semantics, pragmatics and functional linguistics. She has done extensive research on modality, evidentiality and evaluative language, in contemporary English and from a contrastive perspective (English-Spanish). She authors articles and reviews in international periodical journals such as Languages in Contrast, Functions of Language and Journal of Pragmatics, and is co-editor of collective volumes such as English Modality: Core, Periphery and Evidentiality (De Gruyter Mouton 2013), Evidentiality Revisited (John Benjamins 2017) and Evidentiality and Modality in European Languages (Peter Lang 2017).
Juan Rafael Zamorano-Mansilla is a lecturer in English Studies (Language and Linguistics) at the Universidad Complutense de Madrid. His publications include articles and book chapters on modality and evidentiality in English and Spanish. He has also co-authored the book A Systemic-functional Grammar of Spanish: a Contrastive Study with English (Continuum 2010).
---
Première édition
Marta CARRETERO & Juan Rafael ZAMORANO-MANSILLA (2019) «Disentangling epistemic modality, neighbouring categories and pragmatic uses: the case of English epistemic modal adverbs», dans Quinze études de cas sur les modalités linguistiques / Fifteen Case Studies on Types of Linguistic Modalities, Catherine FILIPPI-DESWELLE (éd.), Collection linguistique Épilogos, 6, Rouen, Publications Électroniques de l'ERIAC, p. 131-157.
ISBN : 978-2-919501-07-6
---
---
Table des matières