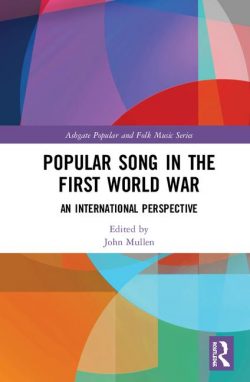 Popular Song in the First World War. An International Perspective
Auteur :
John Mullen (dir.)
N° ISBN :
978-1-138-47846-6
Editeur :
Routledge
What did popular song mean to people across the world during the First World War? For the first time, song repertoires and musical industries from countries on both sides in the Great War as well as from neutral countries are analysed in one exciting volume. Experts from around the world, and with very different approaches, bring to life the entertainment of a century ago, to show the role it played in the lives of our ancestors. The reader will meet with the penniless lyricist, the theatre chain owner, the cross-dressing singer, fado composer, stage Scotsman or rhyming soldier, whether they come from Serbia, Britain, the USA, Germany, France, Portugal or elsewhere, in this fascinating exploration of showbiz before the generalization of the gramophone. Singing was a vector for patriotic support for the war, and sometimes for anti-war activism, but it was much more than that, and expressed and constructed debates, anxieties, social identities and changes in gender roles. This work, accompanied by many links to online recordings, will allow the reader to glimpse the complex role of popular song in people's lives in a period of total war.
Edited by John Mullen
Table of Contents
Introduction Beyond the Question of Morale: Popular Music in the First World War John Mullen
What Voices Can be Heard in Wartime Popular Song?
Chapter I What voices can be heard in British music hall Songs of the First World War? John Mullen
Chapter II French popular song at the front during the Great War Eric Sauda
Chapter III German soldier songs in the First World War and beyond André Rottgeri
Chapter IV The music of war resistance in Britain, 1914-1918 Clive Barrett
Chapter V In search of the French anti-war song, the Chanson de CraonneGuy Marival
Gender, Commercial Song and War
Chapter VI Couples in French popular song and the challenges of the Great War Anne Simon
Chapter VII Masculinity, war and song in America 1917-1918 Christina Gier
Chapter VIII From tulips and curls to donuts and jazz: the representation of women in American popular and soldier songs during the First World War Amy Wells
Chapter IX Staging the nation: Claire Waldoff and Berlin cabaret before and during the Great War Melanie Schiller
The Expression of National and Social Identities
Chapter X 'We shall get there in time': contemporary responses to the First World War by New Zealand songwriters Chris Bourke
Chapter XI Irish Songs of World War I Erick Falc'her-Poyroux
Chapter XII Popular music and eroticism: the Spanish Cuplé during the years of the First World War Lidia López.
Chapter XIII A business without an industry: the Portuguese music business in turbulent times Pedro Félix
Chapter XIV Early Serbian popular songs outside of Serbia during the Great War Dragan Aleksić, Maja Vasiljević, Nataša Simeunović Bajić